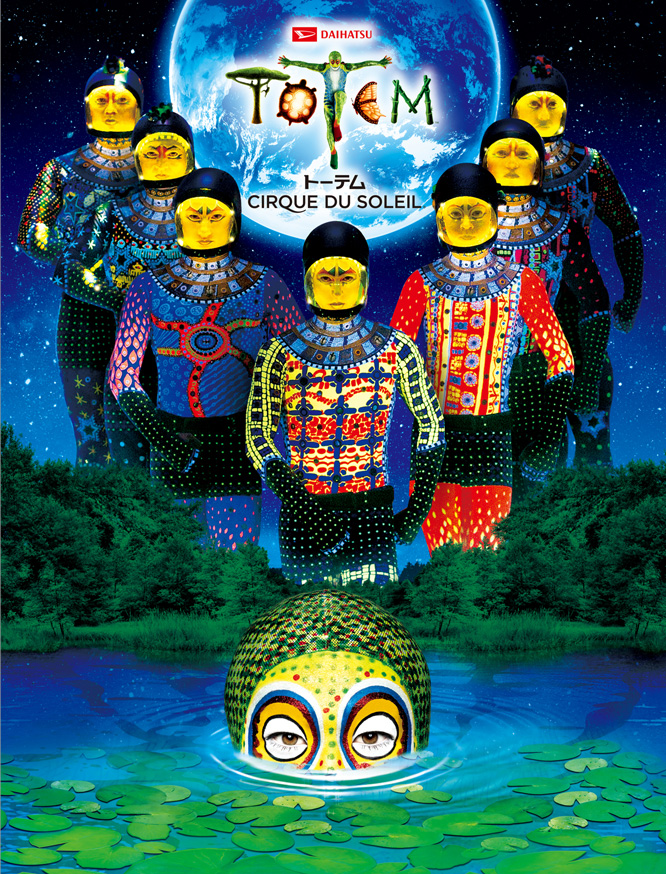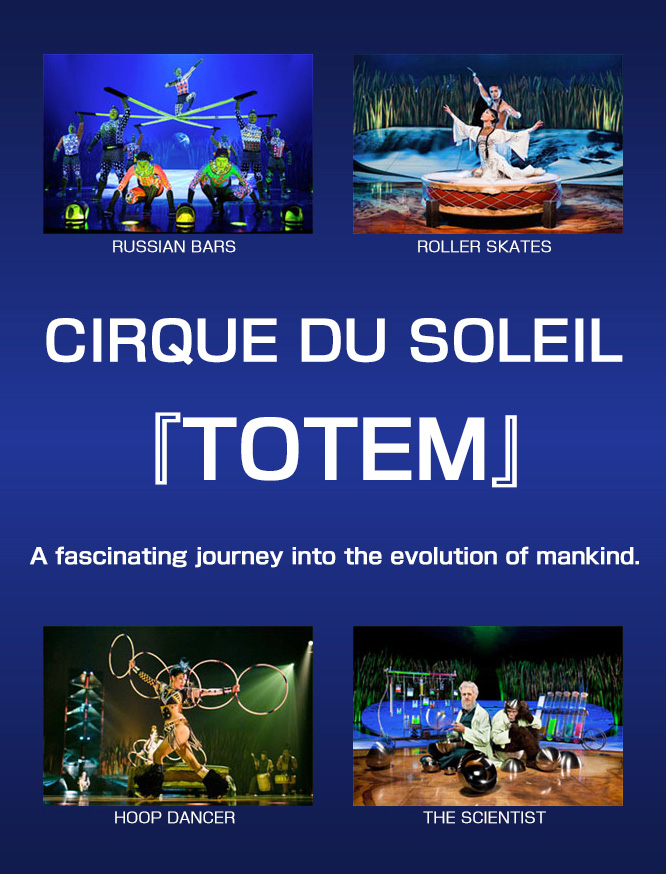 Ticket Information
"CIRQUE DU SOLEIL TOTEM" Tokyo Performance
【Schedule】
Performance in Tokyo: February 3 (Wed) - June 26 (Sun), 2016
【Venue】
Odaiba Big Top
>>Seat Map<Show Details> >>Map<Expand>
【Ticket Price】(Tax included)
| Weekday | SS | S | A/Seats for wheel- chair users |
| --- | --- | --- | --- |
| Adult | ¥12,500 | ¥10,000 | ¥6,500 |
| Student | ¥11,500 | ¥9,000 | ¥5,500 |
| Child | ¥8,500 | ¥6,500 | ¥4,500 |
Weekend&Holiday
SS
S
A/Seats for wheel- chair users
Adult
¥13,500
¥11,000
¥7,500
Student
¥12,500
¥10,000
¥6,500
Child
¥9,500
¥7,500
¥5,500
*

Student tickets are for junior high school, high school, university, and vocational school students. Staff may ask to see your student ID card upon entry.

*

Children's tickets are for preschoolers and elementary school students. If your child is under 3 years of age but requires an individual seat, please purchase a children's ticket.

*

Any changes, cancellation, and refund are not accommodated except a performance is taken off.

*

Seats for wheelchair users may only be booked through the Information Desk from September 26 (Sat) 【TEL: 0570-020-520 available from 10:00am-6:00PM】※Please note that this service is available in Japanese language only.

*

Some seats have a partially obstructed view during parts of the show due to the stage equipment.

*

Some of the acts in the show may be subject to change.
How to Buy?
1)Select a Performance Date
Please click the Performance which you would like to purchase from the calender below.
Please note that depending on the day of the selection,
Tickets may not be available, due to day off, shows are privately reserved or are soldout.

2)Purchase the Ticket
Only Credit Card (Visa, Master) can be used to purchase the tickets.
Please note that \1,000 is charged for the service fee when purchasing.

3)Receive the Tickets
Purchased tickets are able to be received with will-call ticket machine at the venue next to the Ticket Box in the venue on the day of the performance.
Please bring the credit card you purchased the tickets with, and put it into the machine.
Please make sure that the subscription information is correct, and push the "Ticket (発券)" button.
Please pick up the printed tickets from the machine, and be sure not to leave anything behind you.
■ Please select a desired performance date.
Acts
| | | | |
| --- | --- | --- | --- |
| | | | |
| CARAPACE | HOOP DANCERS | RUSSIAN BARS | UNICYCLES WITH BOWLS |
Characters
| | | | |
| --- | --- | --- | --- |
| | | | |
| THE TRACKER | CLOWN FISHERMAN | THE SCIENTIST | THE CRYSTAL MAN |
Photos: OSA Images, Matt Beard Costumes: Kym Barrett © 2010, 2014 Cirque du Soleil